Blake Lively tops my celebrity best dressed list for 2012, but let's just say I've always been a Rachel Bilson and Emma Stone fan. I'm soo glad M and K featured them! While I'm not a Gossip Girl watcher, I just am floored by Blake's natural beauty. Her height, hair, left cheek mole and sparkling blue eyes make it easy to look so pretty no matter what you wear! It was a bit hard to find her personal street style since she films so much, but I think these are her looks.
via
Making good use of those legs there!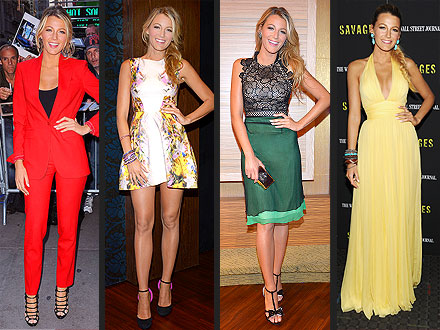 via
Movie premier nights. I think I love the black and green the best.
via
Nautical girl
via
Absolutely love this easy and breezy look. It'd be perfect for steamy Texas summers!
via
Another boho look, simply effortless
via
Classin' it up with Jason Wu!
via
Another boho look, which is why she tops my best dressed look. That's what I love about Jennifer Aniston's, Kate Hudson's, Nicole Richie's and any other boho celebrities style. I think this is a Gossip Girl look though.
via
Looks warm!

What I realized while searching for her photos is that she loves to wear hats, blazers/jackets, and skinny pants. Almost everything I found was pretty similar; nothing too extraordinary but totally wearable (for me). So I think maybe I just like her character's style on Gossip Girl. Either way, she's pretty laid back and simple, and I like that!
My next best dressed isn't a celebrity, but is well known in the blogosphere. I absolutely am entranced whenever I visit her site, scroll her pinterest, or encounter a product of hers. She is my design crush because she does it all! Graphics, fashion, photography, magazines and she's just so infectiously happy! I have mad envy and love for her! You know her as Bri Emery from designlovefest!
via
Bri always adds color to her outfits. THe addition of that scarf takes this outfit from something I would wear as blah, to YAH!


via
I want her hair and face so I can pull off a hat as cute as hers on myself! Loving these warm jewel fall colors against her bright blonde hair.
via
Colortastic, she is and so bold with her choices.


via
While Bri is much more adventurous than I ever will be, this is an outfit I could start with, though I'm not sure I would ever have the courage to try tuxedo shoes.
via
I pulled this to show her ability to mix prints and colors so well; she's so inspiring in that department!
via
Silk ikat shorts with a chunky striped sweater, yes please!


via
Adorablez. Based on the images I pulled, I must be having a mad love for that pant color right there. What would you call it?


See more of Bri's look on her website under her Style column. I love visiting her for her outstanding photo shoots and all around design ideas. She's amazing and makes it look soooo easy; sigh! I'm also impressed at her success in such a short amount of time. She's got an incredible wealth of experience for a 26 year old and the drive that she and others have is so desirable! Le sigh!